Quick Start to Automation
Move Quickly to Digital Accounts Payable
DataServ partners with clients to initialize AP invoice Automation Solutions in Days, Not Months.
DataServ AP invoice automation (APIA) improves financial controls, increases visibility, reduces invoice processing costs, frees staff time, mitigates invoice fraud, and streamlines the approval process. Now you can have access to this world-class automation and the expert advice to make you successful without buying or building a custom system or paying for features you do not need. We took the risk out of buying an APIA solution! Simply redirect your existing AP email address(es) to DataServ and take advantage of our Invoice Processing Machine – it's the world's first SaaS OCR and it is already optimized through the processing of millions of transactions – so you are not forced to figure this out on your own or wait for the system to "learn" your invoices.
Features that Automate Your Work – not just your workflow
Thanks to our unique QuickStart Initialization process, you can access a complete Exception-based AP process in a very short time. 80% of the process is standard, out of the box and the other 20% is tailored to your business.
Standard Features Include:
No expensive third-party Consulting
Minimal I.T. effort for interfacing
100% digital, single-stream document ingestion
High quality, human-validated OCR data capture
Built in Best Practices
Automated, email-based workflow with mobile capabilities
Automated initial routing
Distributed digital invoice Coding and Approval based upon your DOA
Secure coding restricts users to only their own cost center information
Past coding provides suggestions based upon prior invoices from the same vendor
Documented, auditable approval matrix
Identification of potential duplicate invoices
Change management tools through our Rapid Adoption Kit
Approve Invoices from Anywhere
Your colleagues will also enjoy mobile approval for invoices anywhere and at any time. Invoices are available for mobile approval, along with invoice details, an image of the original invoice, and any discussion items. Our streamlined display makes it easy for one-touch approvals or rejections.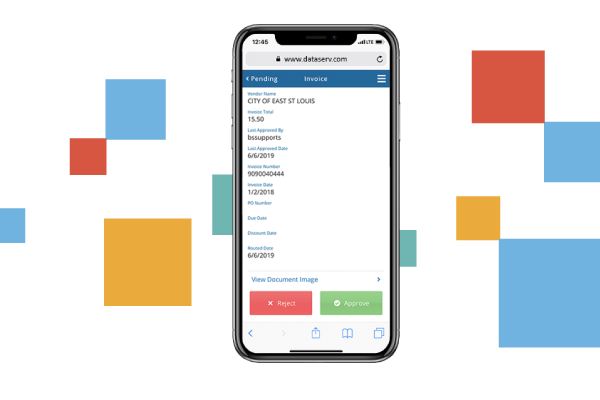 With our QuickStart initialization, you will immediately remove roadblocks in your Accounts Payable processes and capture the following benefits:
Let's Start a Conversation
Our Solution Delivery team will continue to partner with you to tailor our solution to fit your needs. We strive to create a solution that is a perfect match for your organization's needs. We bend our technology to fit you, not the other way around.