We provide more than software. We deliver results.
One of our Founding Principles and Core Values is Evolution vs Revolution. Evolution is natural and comfortable and is always happening.  Revolution implies rapid, often unwelcome painful change. To deliver on this Core Value we invented our own proprietary SaaS implementation methodology called Initialization. Unlike traditional software implementations, we start with about 80% standard configuration and include Tailoring to your business needs. This provides faster time to value with industry Best Practices honed over our 25+ years of experience in AP Invoice Automation.
Common Problems DataServ Solves
My team spends too much time keying invoice data into our systems and/or scrubbing poor data from OCR data capture.
We Recommend: Digital Mailroom
Our Digital Mailroom is always running in the background – you may not even notice it's there! (And that's the way we like it.)
Using the latest intelligent data capture and invoice processing technology supported by expert invoice processing teams working around the clock, our Digital Mailroom will handle all your incoming documents, regardless of form or format, in ways that are specifically tailored for your organization.
Whether your documents arrive via email, EDI, FTP, mail, fax or carrier pigeon, our Digital Mailroom processes and returns a single stream of normalized digital data that is contractually guaranteed to be 99%+ accurate!
This is critical to position yourself to fully optimize your AP Automation downstream, saving you a tremendous amount of time, resources, and money – and, best of all, eliminating ALL manual data entry and/or clean-up work on your end.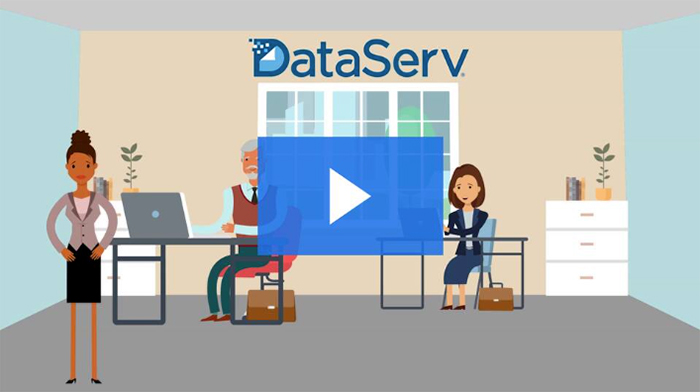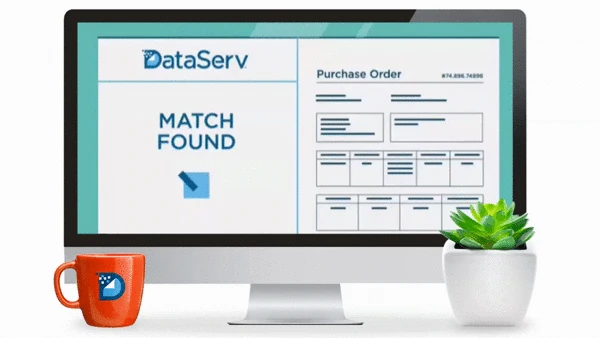 the process of matching invoices to P.O's and Receipts is still too manual and taking way too much time.
We Recommend: AutoVouch™
AutoVouch™ is DataServ's, "Pre-ERP", AI-powered two or three-way match capability to automate the manual AP matching work for P.O. based invoices. The captured invoice data, which can be received in any form or format from your suppliers, is converted to a standardized single stream of digital data that can then be used for automated matching to the information from your purchase order and receipt data files. It is then validated using sophisticated rules, tolerances and data to automatically vouch invoices without human touch!
All transactions that match (based upon pre-set rules and tolerances you establish) automatically flow into your ERP system accurately vouched and ready to be scheduled for payment.
Imagine the benefits of fully automating 50 – 90% of your AP transactions with zero human touches involved in the entire process!
AutoVouch™ does not replace ERP matching – it performs this function for your ERP and provides an automated workflow to easily manage exceptions.
My AP function lacks scalability to keep up with organic and/or acquired growth.
We Recommend: Analytics
Suppose you want the power to make better and faster decisions to manage invoices, processes, and vendors. In that case, our Analytics capabilities and dashboards will give your team valuable insights into your financial liabilities.
DataServ created an easy access Analytics tab in our platform for designated users. There, users will find many dashboards we've already created, including Aging, AutoVouch Analysis, and Vendor Not Found. Users will have the ability to filter existing dashboards and also create their own.
Plus, metrics and charts are shared by exporting or printing from our platform. Our Analytics capabilities offer unlimited options for segmenting data to help you drive continuous improvement and quickly make better decisions.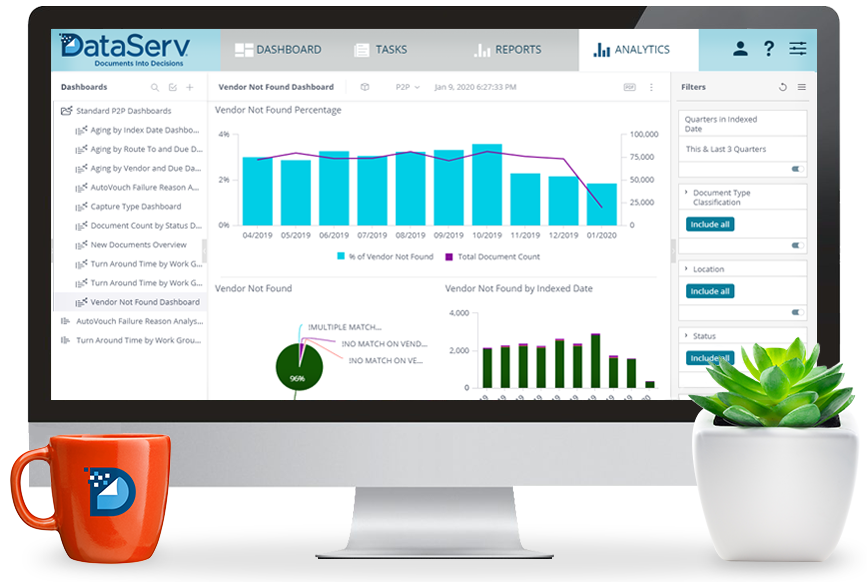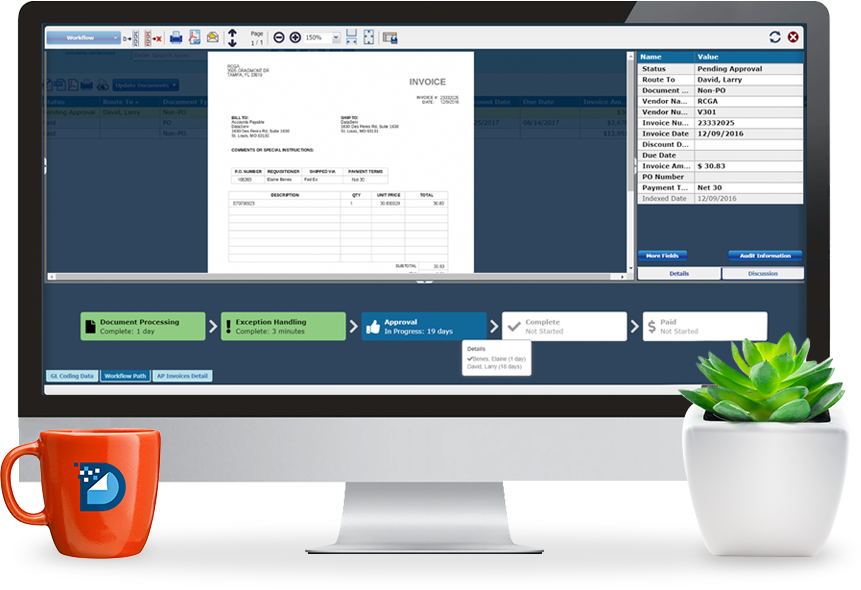 I lack both the high level visibility into current outstanding liabilities, and the day-to-day visibility to know where an invoice is in the process.
We Recommend: Workflow & Analytics
When invoices are not paid on time, everyone looks to the AP team to find out why – especially vendors!
But what if the problem lies somewhere else?
Maybe there was an exception or data mismatch, or the invoice is still in an approver's queue. Workflow Path provides visuals in the DataServ AP invoice Document Viewer to show you the real-time status of an invoice and how long it has been in each step of the payment process, eliminating time spent tracking down approvers or checking the audit log.
Simple color-coding shows steps that are completed, in progress, or not yet started. Each step also shows the date received, completed, or paid, and you can hover over steps for more detailed information, like approver names. Don't waste any more time tracking down the status of your invoices!
Let's Start a Conversation
Regardless of where you are at in your AP automation journey, DataServ will meet you there and help you evolve.