AP professionals have a lot going on. Receiving invoices, managing requests, ensuring compliance, communicating with vendors, processing payments – the list goes on and on! Sometimes there aren't enough hours in the day to complete all your tasks, and the projects just keep coming in, and the invoices just keep stacking up.
That is the point of AP automation, after all! The right SaaS solution partner will develop software with you and your responsibilities in mind, with the goal of allowing you to complete your tasks faster and better, giving you more time back in your day.
When comparing automation solution providers, you should ask for these three features and solutions that can save you time:
Workflow Path
It can be frustrating when the AP team is getting hounded for invoice payment statuses – from both colleagues and vendors alike.
That's why you need Workflow Path. Workflow Path provides visuals in the AP invoice Document Viewer to show you the real-time status of an invoice and how long it has been in each step of the payment process, eliminating time spent tracking down approvers or checking the audit log.
Simple color-coding shows steps that are completed, in progress, or not yet started. Each step also shows the date received, completed, or paid, and you can hover over steps for more detailed information, like approver names.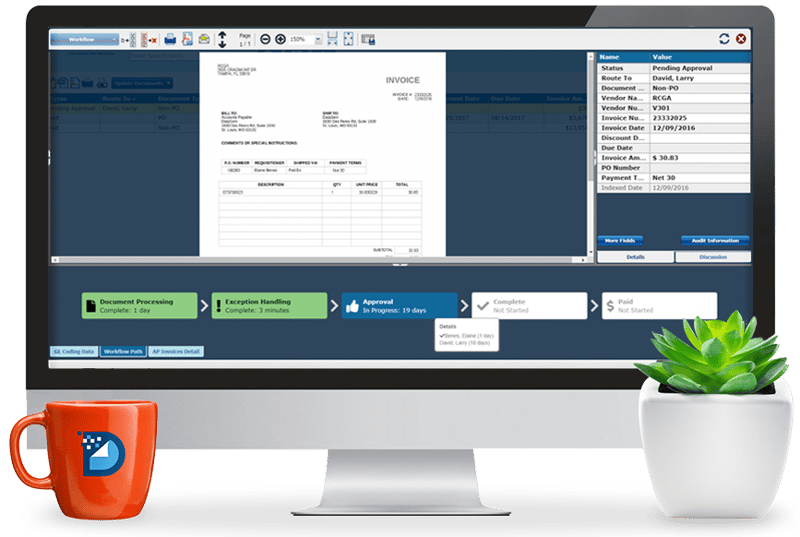 AutoVouch™
Without automation, AP teams are responsible for matching data on invoices to other documentation, like receipts and purchase orders, for accuracy before processing payment. When all the information matches, it's easy. But when it doesn't, the problems begin to pile up. While an employee is making phone calls to find out why a receipt says they received a different quantity of goods than the invoice, more and more invoices are stacking up behind to be processed – and for companies that receive tens of thousands of invoices each month, this can back up a team of just a few employees instantly. And when invoices aren't processed, vendors don't get paid, financial forecasts can't be made, and operations will be negatively impacted.
Enter AutoVouch which uses the latest in AI and process automation technology to systematically eliminate human interaction during the invoice matching process. AutoVouch scans digitized invoice data, which greatly reduces the use of paper, and evaluates the data against multiple fields, such as PO Number, Invoice Date, Total, Subtotal, and more. Price and quantity variances are identified and compared against acceptable levels, which can be passed or routed for exception processing based upon pre-set rules. Robust exception workflows not only automatically route invoices that need further processing to the appropriate person, but also provide process statistics for managers to create improvements.
Mobile Capabilities
It's not uncommon for your colleagues to work in "untraditional" spaces these days given many organizations' shifts to working from home. You likely have team members who work from home, different departments scattered in different cities, or approvers who are often on the road. That's why your AP solution needs strong mobile capabilities. When your colleagues need on-the-go access to approve invoices, the process needs to be simple and fast. The right AP automation partner will have
mobile capabilities
, giving you easy access for one-touch approvals and rejections of most invoices. In addition, your colleagues can view training resources and submit support tickets directly from their mobile devices.